SERIALIZATION
Since 9th February 2019 the EU member states have been obliged to apply the requirements of the Commission Delegated Regulation (EU) 2016/161 and the Directive 2011/62/EU of June 2011 for the prevention of the entry into the legal supply chain of falsified medicinal products (the Falsified Medicines Directive).
The verification of authenticity of pharmaceuticals is possible with PLMVS, which is part of EMVS. This is the first IT project implemented on such a wide scale in the healthcare system. It is unique in the pharmaceutical industry and the first one at such a high IT level in Europe.
MEDICINES VERIFICATION SYSTEM
The medicines verification system increases patient safety by eliminating falsified pharmaceuticals from the supply system, improves the transparency of medicines policy and introduces savings associated with the optimisation of the medicines circulation model.
The Falsified Medicines Directive (FMD) and the associated medicines serialisation requirements have been adopted in order to secure the European distribution chain from the introduction of falsified medicinal products to the markets of the countries covered by the directive.
Falsified medicinal products may contain a smaller amount of active substances or not contain them at all; they may also contain other active substances. Medicine packaging may also be counterfeit. For this reason, the
Falsified Medicines Directive has introduced the requirement to place double security features against counterfeiting on the packaging of medicinal products. This requirement applies to prescription medicines and certain over-the-counter medicines.
Since February 2018 medicines manufacturers are obliged to place two safety features on the medicinal product packaging: a unique identifier (UI) in the form of a 2D code and an anti-tampering device (ATD).
A 2D code includes: product code (GTIN,NTIN,PC), batch number (Lot, batch), serial number of the single pack (SN, NS) and expiry date (Exp).
An ATD is supposed to make it possible to verify if an individual product pack has been tampered with at any stage of distribution.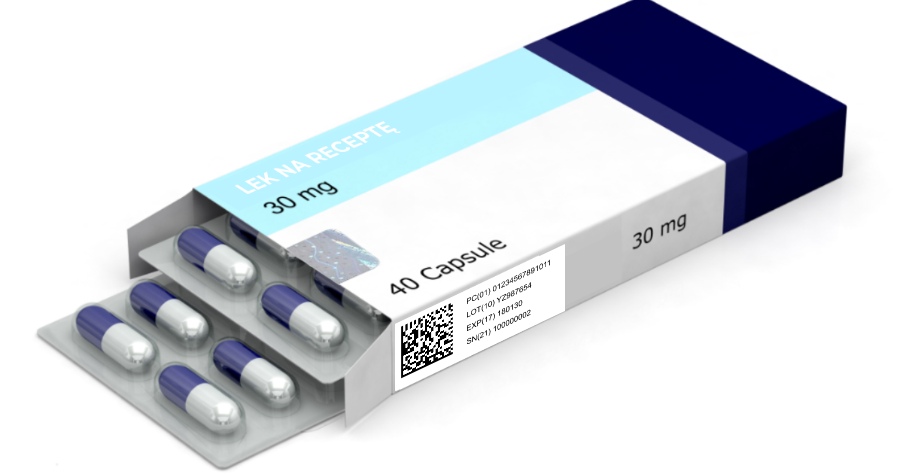 Element zabezpieczający ATD, anti-tempering devices
ATD ma umożliwić weryfikację czy opakowanie jednostkowe produktu na kolejnych etapach dystrybucji nie zostało naruszone.

Unikalny identyfikator (UI)
Identyfikator w postaci kodu 2D i towarzyszących informacji zawiera podstawowe dane o danym opakowaniu produktu leczniczego, takie jak numer serii produktu leczniczego, numer seryjny konkretnego opakowania, data ważności, kod produktu. Przy użyciu odpowiedniego skanera, kod 2D może zostać sczytany i dzięki systemowi informatycznemu, osobom na kolejnych etapach łańcucha dystrybucji wyświetlą się informacje o tym, czy dany produkt został zweryfikowany pozytywnie, tzn. czy pochodzi z legalnego źródła.
FALSIFIED MEDICINES
The reason to develop such a system is because over the last few years there has been a rapidly growing and dangerous problem of medicinal product counterfeiting on the pharmaceutical market. The experiences of the World Health Organization (WHO) have shown that the problem of counterfeit medicines is becoming more serious every year.
WHO data demonstrate just how disturbing these practices are. They show that even 1% of medicines sold in developed countries may be falsified and as many as 50% of medicines sold via the internet are counterfeit products.
Currently, the most commonly falsified medicinal products are innovative drugs for serious diseases such as cancer, heart diseases, high cholesterol level, mental disorders and infections. In contrast, up until recently, the most commonly falsified medicinal products were erectile dysfunction medicines.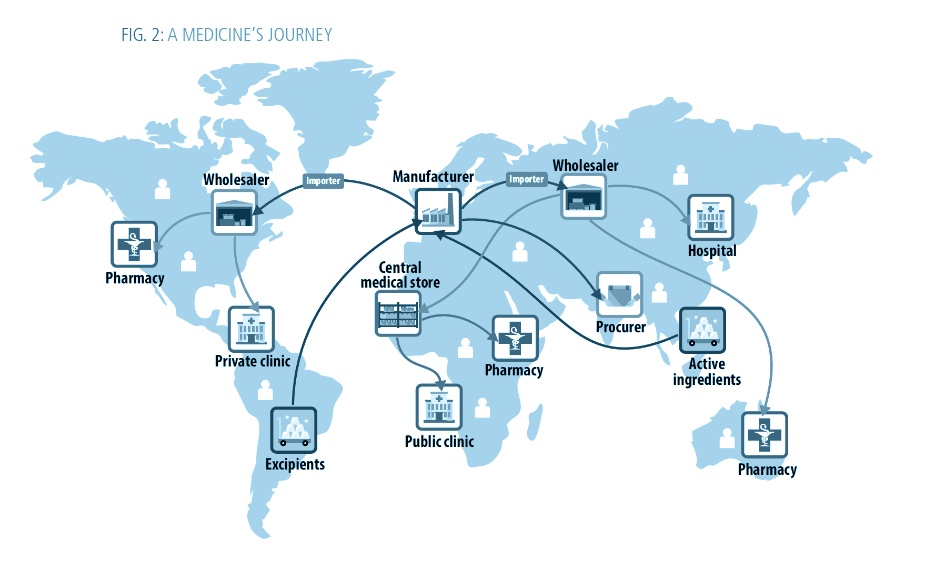 Źródło: WHO Global Surveillance and Monitoring System for substandard and
falsified medical products, WHO/EMP/RHT/2017.01, listopad
KEY ELEMENTS
Since 9th February 2019 all users who have downloaded a certificate of access to PLMVS should use it to verify or withdraw only prescription medicinal products and Omeprazol which meet two criteria at the same time: they were released from 9th February 2019 onwards and their packaging contains two safety features together: a 2D Data Matrix code and an anti-tampering device (ATD).
This means that the products which do not meet the criteria mentioned above are not required to be verified or withdrawn using the system.
FORECASTS
PLMVS is used to implement an overarching goal of improving patient safety in the whole Europe as well as in Poland.
The medicines verification system will tighten the pharmaceutical distribution system by eliminating counterfeit products.
Starting 9th February only serialised medicinal products with two safety features have been introduced into the system; medicines marketed before 9 February will remain on the market until the expiry date. Three or four years will pass before only serialised medicines are present on the market.